The New York Quartet on tour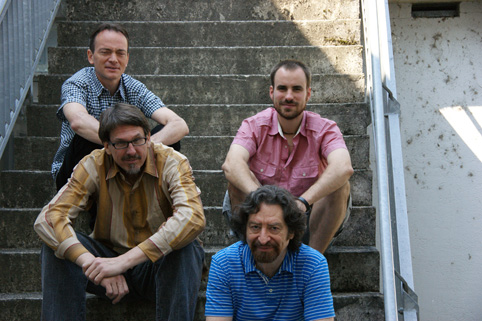 Daniel Guggenheim (Sax)
Peter Madsen (Piano)
Sean Smith (Bass)
Devin Gray (Drums)
booking contact: [email protected]
With Daniel Guggenheim, Peter Madsen, Sean Smith and Devin Gray (who replaced Gerald Cleaver in 2012) four experienced jazz musicians have joined forces to express their enthusiasm and their ambition to create something new. As members of the New York Quartet, the excellent musicians have completely dedicated themselves to a perfect team performance. "Innovative, with an assured sense of style, sophisticated, a dreamlike flow between mellifluous Cool and demanding New Jazz" as the Online Musik Magazin wrote. So the whole is greater than the sum of its parts – for once this phrase is actually true. Daniel Guggenheim and his quartet succeed in merging the singular inspirations of each individual into one unique composition. They intensify their mastery, thus giving a new impetus to their work.
Peter Madsen loves contrasts: he is now living part-time in New York and part-time in Vorarlberg, Austria. During his career he has been working with many great jazz artists such as Mario Pavone or Pee Wee Ellis. In terms of style he is equally fond of musical opposites: he has recorded more than 100 CD'S with traditionalists like Benny Golson and Stanley Turrentine, modernists such as Joe Lovano and Kenny Garrett as well as funk masters like Fred Wesley and Maceo Parker. His extensive musical scope ranges from Jazz, Folk and African inspirations to side-trips into background music for literature and poetry.
Sean Smith has been on the international jazz scene for over 20 years and has appeared on more than 100 recordings. Smith has performed with such jazz superstars as Gerry Mulligan, Phil Woods, Benny Carter, Flip Phillips, Johnny Griffin, Clark Terry, Lee Konitz, Art Farmer, Tom Harrell and many others. Sean has also been the accompanist of choice for such celebrated vocalists as Peggy Lee, Rosemary Clooney, Jimmy Scott and Andy Bey. He is a prolific composer whose music has been played and recorded by such artists as Phil Woods, Bill Charlap, Bill Mays and Leon Parker. His Song for the Geese is the title track of Mark Murphy's 1998 Grammy nominated album.
Devin Gray's fresh approach to modern drumming has enabled him to play with many of America's great jazz musicians. He has performed and recorded with innovative musicians of contrasting styles and backgrounds such as: Tony Malaby, Gary Thomas, Ingrid Jensen, Dave Burrell, Dave Ballou, Michael Formanek, George Garzone, Sam Rivers, John O'Gallagher, Ellery Eskelin, Ted Rosenthal, Dave Liebman, Vardan Ovsepian, Bill McHenry as well as many others.
Devin has been fortunate to perform in many places around the globe and continues to make peace with his audiences. He is a top call young drummer in many modern jazz circles in New York City as well as multiple cities on the East Coast of America. He is currently living, playing, and composing in Brookyn, New York.
Press commentaries
"… with his quartet Guggenheim knows how to translate meaning into music and proves himself to be a master of expression and of multifaceted, nuanced voicings; expressiveness is exchanged with comtemplation, humor with melancholy … his music is characterized by seriousness, intellectual saturation and emotional authenticity … because Daniel Guggenheim has found a very independent, unpretentious personal style, a mature, substantial music, far beyond all cliches … refreshingly immediate and honest is how he sounds and listening to him is simply fun." Jazzpodium
" … sweeps away every shade of tiredness from pure fascination. Here, we were presented with a complete work – compositionally complex, technically brilliant and musically cohesive and inspired. What a team, what dreamlike jazz!" online musik magazin
" … constructioning a tension beyond space and calm intensity that is unparalleled …. The band keeps the wordless promise it gave with excellently interpreted compositions, surprises with a music that … is equally poised and worldy, as it is exciting." Sonic
One word is sufficient: "Wow!" … downright hypnonic ballads … or also a step over into a sphere in which Guggenheim plays, like Jackson Pollock at work while painting with his "drip technique": in a swing of abstraction, which places himself outside common convention, in order to establish his own from intuition …." südkurier